In this exclusive interview, black midi talks about their new album Cavalcade, even more complex and challenging than their debut, Schlagenheim.
Words Fernando Dotta
Photography YIS KID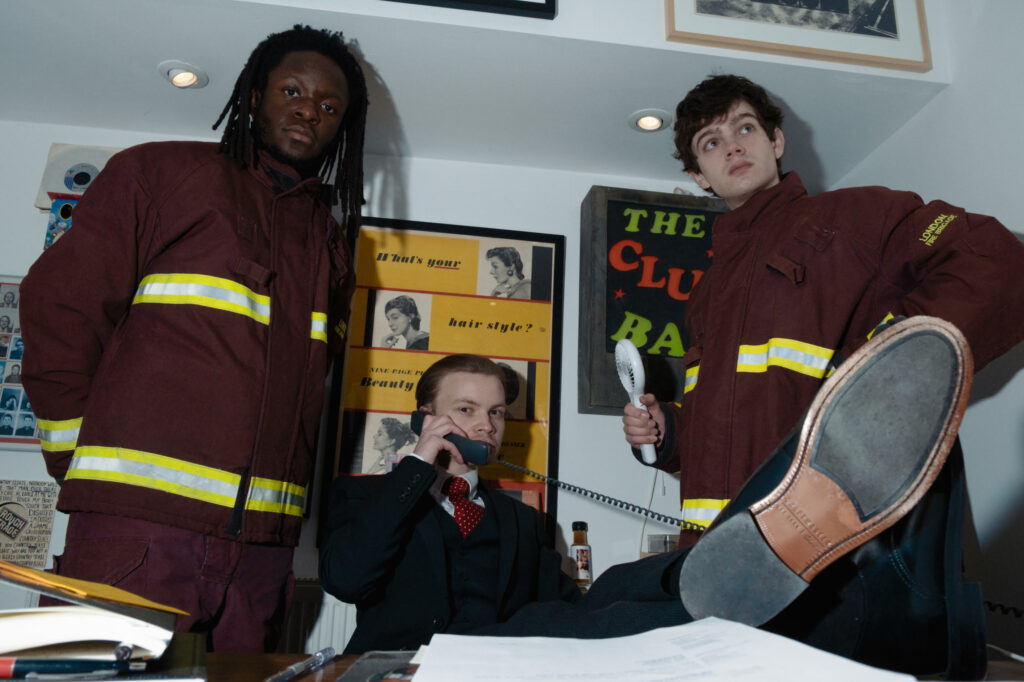 Only two years after the release of their first full-length, Schlagenheim, English band black midi went from British rock's "band to watch" to one of the world's most important and renowned acts. Among their fascinated fans, who comment tirelessly on social media or namedrop them in interviews, you'll find names such as Julian Casablancas, St. Vincent, Matty Healy (The 1975), and Ed O'Brien (Radiohead). They were nominated for the Mercury Prize in 2019, signed to the iconic Rough Trade Records, sold out an extensive concert schedule, and now tour today's most relevant alternative music festivals. 
In March 2019, I first interviewed black midi in person before their debut New York concert. You can read more about that here. What separates us from this recent past, a day that now seems incredibly distant, is a pandemic still badly affecting much of the world, and a misgoverned Brazil in particular. This led to the unfortunate cancelling of previously announced concerts in Brazil the band had scheduled for March 2020 (promoted by Balaclava), which are already being rescheduled to 2022.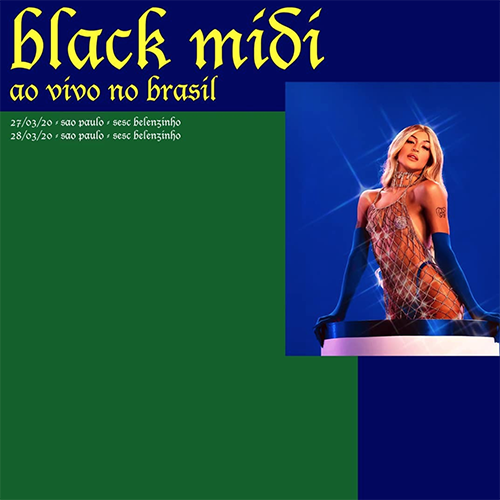 Cavalcade, a dynamic and creative follow-up to Schlagenheim, was written in this period of isolation. It is a complex, theatric, dramatic record, swinging between extreme tension and calm, making this masterpiece even more impressive and thrilling when enjoyed front-to-back.
Cavalcade "scales beautiful new heights, pulling widely from a plethora of genres and influences" according to their press release, revealing a new facet of black midi, manned today by Geordie Greep (guitar, primary vocals), Cameron Picton (bass, vocals), and Morgan Simpson (drums). With original band member guitarist/vocalist Matt Kwasniewski-Kelvin taking time off to focus on his mental health, black midi chose to augment their sound on Cavalcade, rather than replicate it, adding saxophonist Kaidi Akinnibi and keyboard player Seth Evans.
The eight tracks are brilliantly produced and mixed to near perfection by John 'Spud' Murphy, with the exception of opening track "John L", produced by the acclaimed Marta Salogni. Fans can find Cavalcade on all major digital and streaming platforms, in addition to CD and vinyl, all via Rough Trade Records.
Looking for musical references throughout a listen is rewarding exercise – you'll find elements of King Crimson's new wave, the insane, jagged tempos of Primus ("Hogwash and Balderdash"), the orchestrated madness of Frank Zappa, the refined jazz fusion of Kamasi Washington, climactic moments evoking Radiohead and Grizzly Bear ("Diamond Stuff"), and even Geordie crooning a-la Scott Walker and Frank Sinatra on the ending track, "Ascending Forth". Brazilian influences also make an appearance, with a taste of bossa nova on "Marlene Dietrich", and moods reminiscent of Lô Borges's solo career and Clube da Esquina.
Two days prior to the album's release, I spoke with Cameron via Zoom to understand their vision on Cavalcade and the process behind the new tracks.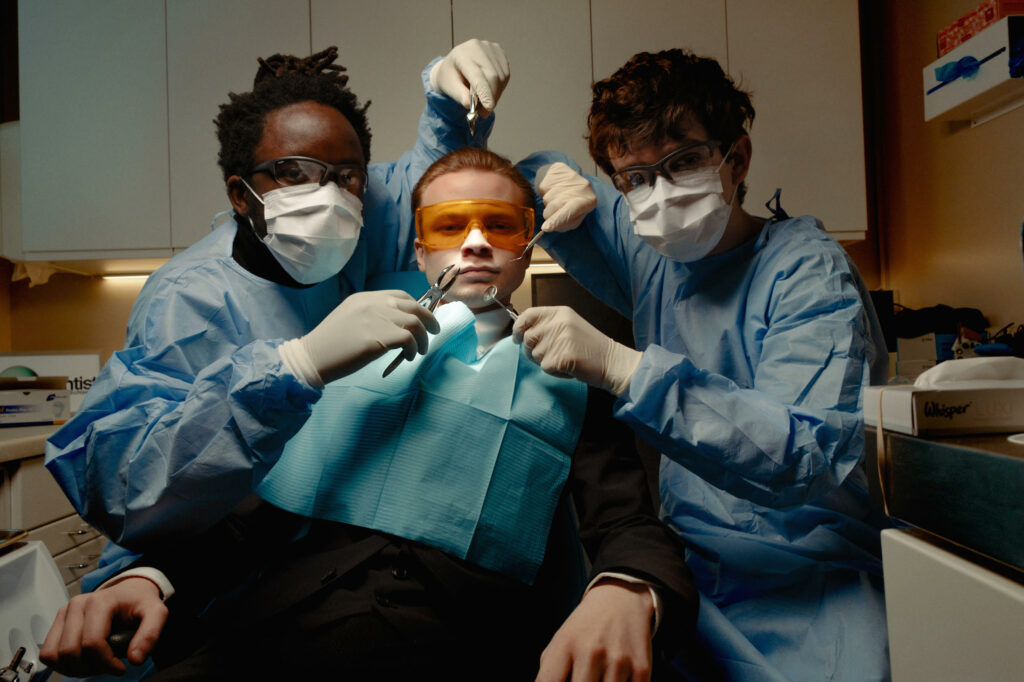 Dotta: First of all, congratulations on the new record. I really loved it.
I would like to say that Cavalcade really took me by surprise. Although I knew you guys wanted to do something different, as we talked about before and black midi as an ever-evolving band, but either way, I still don't know how to describe "what the record sounds like?" to a few close friends who asked me.
To someone who's not interested in labeling as a genre or relate to other bands, how would you describe Cavalcade?
Cameron: Exciting, dynamic, crazy and beautiful.
Dotta: In comparison to Schlagenheim, the new record sounds more complete in its concept and maybe more precise in its intentions. When you were composing these tracks, were you looking for specific sounds you wanted to achieve? Such as "I want to sound like THIS record or bring THAT exact kind of vibe?"
Cameron: It's never really been like a "I wanna do a thing like this or like that". For example, in that "Dethroned" song, we had a section (Cameron sings) where Geordie had this riff and we said "oh cool, it's like this reggae thing or whatever" and we just called it "the reggae section", but never referencing specific things.
In the last record, there was a reggae drum beat in one of the tracks and we decided to name it "Reggae", but this time we're not doing the "lazy thing". This time is a lot more considered and we had the time to think everything out, work all the arrangements. Some of that would have happened anyway without the pandemic and some were just accelerated by the lockdown.
Dotta: How was the composing process this time when you did mostly separately? Were you trying to imagine the other musicians' arrangements? Also, was there a common sense in avoiding to write about isolation as a theme?
Cameron: Half of the record was written by ourselves and the other half was either by us live on tour or together in the rehearsal room. It's difficult to think about the way that you want the drums to be, because obviously Morgan is such an unique drummer and can do so much. What's the point of me doing a drum part for him, when he's gonna do a hundred times better than I can ever think of doing? So yeah, it was hard at that point, but once we got back into the room, it was pretty seamless. We spent around a month working all these new songs out, learning how to play them, writing a bunch. The only one we ended up recording was "Dehtroned". It was an interesting way of doing things and I'm intrigued to imagine how it would've gone without the pandemic.
We were about to go to Brazil, Chile, Mexico, Colombia, and then also do Coachella and tour in the US during the summer. It would have been interesting to see how we'd manage this thing of wanting to go in this new direction. I guess the forced change is one of the silver linings of the lockdown. Regarding lyrics, I didn't really want to sing anything about the lockdown, it was already cliche by that point. That Charli XCX album (how I'm feeling now) I think is the only acceptable piece of lockdown art. We didn't want to create something outdated and also we didn't know how long this pandemic would last.
Dotta: Was writing at home more comfortable than jamming or were you already planning to try something different?
Cameron: It is something I do anyway. I was just doing stuff for the fun of doing it, not thinking about the band. I am sure Geordie was doing the same as well, just enjoying writing music, because there was nothing going on really. Then we were sending it to each other and the ones people were interested in or mostly excited about, we ended up doing, but focusing on one idea.
Dotta: Tell me about the process in choosing to work with Marta in London and later with John at Hellfire Studios in Dublin. What were their main inputs in your recordings?
Cameron: Before lockdown, we were itching to get some demos recorded, but it was the week when everything started to go badly wrong and everyone was coming down with covid. Pre pandemic, we had ideas of who we wanted to work with. There were some producers in the States, some based in Europe. We were looking towards the UK and then Marta stood out, mostly for her credits with Björk and lots of her mixing credits.
We had a few meetings, and when we talked to Marta, she really got the stuff we were saying about the "fourth wall breaks" and the mix of this ECM really natural sound and this crazy sounds, so we thought "this is something worth doing". The "John L" section was super quick: we got in in a day, recorded all the instrumental and the overdubs, next day we did the vocals, mixing, then violins and saxophone we ended up recording later with Spud.
So what you hear was basically done in less than 3 days. We were gonna do a few more sessions with Marta, because we wanted to be more like a split thing where you have different producers on the record. It's something we always had the idea of, because we like it when hip-hop records have multiple producers and we wanted to try with rock music and see how it sounds. However, it was impossible to do with Marta this time around, but hopefully we're gonna do more sessions with her, because we all really enjoyed that session.
So we ended up having the recommendation of Spud from Geoff Travis (founder) at Rough Trade, because he had done the Lankum records and I was a fan of theirs and I thought their records sounded really good. We did a Zoom with him, because obviously we couldn't travel, and he was similarly saying all the right things that Marta was saying. He said that he could sort a bunch of instruments, because we liked how in the first record, Dan (Carey) studio had loads of instruments lying around and we could just pick up and add to the album if we wanted.
The recording process with Spud was great. We went to the Wicklow Mountains, outside of Dublin, and we were expecting to record three tracks for the album and it turned into tracking the basic takes for the whole thing. Every day got exponentially better. Everyday, we would add more layers on top of the bass, guitar and drums, and we were "ok, this is really really good!". After five days, we went home because the time we had booked the studio ended.
We heard the material and we were thinking about what elements we'd like to add and arrangements. We did about seven days in London where Spud and the engineer Ian (Chestnutt) came over and we go a bunch of friends in to record the extra parts: Kaidi (Akinnibi) on saxophone, Seth (Evans) on keys, Joe Bristow on trombone, Blossom (Caldarone) on cello, Joscelin (Dent-Pooley) on violin and Rosie (Alena) on vocals.
Well, that was pretty much the process of making it. It took less time in the number of days than Schlagenheim did, but it was over the end of July until the end of October, that was the tracking and recording process.
Dotta: Regarding the singles, you could have chosen soft and melodic tracks, such as "Marlene Dietrich" or "Diamond Stuff", but preferred to introduce the chaotic ones. Was it something that you wanted to save for the full experience of listening to the record?
I'm asking that because at the same time I feel each song is really well resolved by itself, the audience can only understand this work when they listen to it in its entirety.
Cameron: Yeah, we really wanted it to be a surprise to people when the album came out. That's the whole thing about the journey into "Marlene Dietrich". It's like "ok, here we are black midi" and a lot of chaos and noise, then there's this immediate left turn. If we had given people those tracks before…Well, it has the most effect in the context of the album, like you said. Basically, when we were done with the record, we knew "John L" would be the first single, the best one to do. Then, "Chondromalacia Patella" and "Slow" we wanted them as singles but not exact order, so that was the way that went.
Dotta: I'll end by saying that, from my perspective, Cavalcade sounds like the achievement of a lifetime. It is a really beautiful piece of work and it has elements that only black midi can bring without sounding over the line or even phony. It could seem that it was made by a band with decades of maturity and an extensive catalog, but you're still in your early 20s and about to put out your second record. You know what you're doing and you proved to deal well with external expectations regarding your art, but internally, is there a pressure to always surprise and bring something no one's expecting?
Cameron: Thanks very much for all of that, I really appreciate it. Hopefully the next one will be "two lifetimes work". You always have to be pushing yourself to do something that is exciting but also challenges yourself. You don't wanna be in a comfort zone. After a period of touring our first record, some things were becoming sort of patterns, so doing jams after sometime wasn't exciting or dangerous to us anymore. There's not really an outside pressure, it's more just for us what is exciting and challenging to make.